A Low Capex Open Pit Operation with Significant Resource Expansion Potential

Location & Setting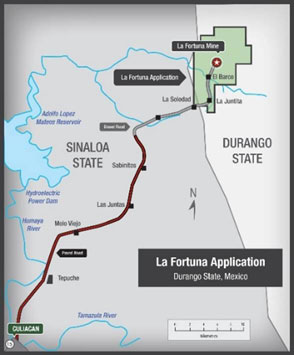 Durango State, Mexico
~6,200 ha contiguous land package
Easily accessible via a 100 km road from Culiacan, the Capital of Sinaloa state and the site of the Company's Mexican office
State authorities are upgrading the 2-lane highway to the project along with grid power

Mine Plan / Stage

PEA in Q1 2018 contemplating a simple open-pit mine with initial 45-50 koz Au annual production
Simple Funding Package
Option for Osisko Gold Royalties to acquire 4.0% NSR for $9M to fund a significant portion of expected initial capital outlay

La Fortuna Background

The La Fortuna Gold Project includes the historic La Fortuna mine together with the surrounding concessions, totaling 6,200+ hectares. The property is located in the northwestern corner of the State of Durango, Mexico, about 100 km northeast of the city of Culiacan, Sinaloa.
Initial development of La Fortuna followed the 1884 discovery of the gold-bearing oxidized outcrop. Between 1886 and 1892 a 200 TPD gravity mill was built near the site to process the ore which was selectively mined underground. Reportedly, about 200,000 tonnes of material, grading 20 g/t was mined and processed during this period. In 1987 an 80 tonne per day flotation mill was installed in order to process the sulfide ore, operating intermittently until 1990.
Reportedly, 20,000 tonnes were mined from underground and processed. Between 1991 and 2008 numerous exploration surveys were performed which included detailed mapping and sampling of the underground workings and the drilling in the immediate La Fortuna Mine area. These programs culminated in the development of a resource block model which produced a Measured and Indicated resource of 4,800,000 tonnes at 2.0 g/t gold (308,000 contained ounces) at a 0.50 g/t gold cutoff grade as set forth above.