A High Grade Open Pit Copper-molybdenum Project

Location & Setting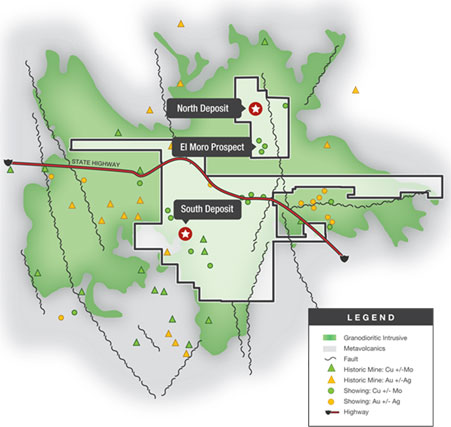 Sonora State, Mexico

Located near Santa Ana, ~200 km southeast of Hermosillo (pop. 800K)

Property accessible via paved Federal Highway 16 connecting Hermosillo and Chihuahua City

Close to Guaymas shipping port with concentrate blending facilities

Excellent site infrastructure


PEA completed in 2008 and re-issued in 2012

Construction permits issued in 2009, updates ongoing



Los Verdes Background


The Los Verdes project is comprised of 18 concessions covering 7,760 hectares located in Sonora Mexico, approximately 200 kilometers east-southeast of the capital city of Hermosillo.

Utilizing only the project's South Deposit, the most recent PEA report was based on a resource estimate that contained a total resource (measured + indicated) of 7.7 million tonnes – 0.64% copper, 0.12% molybdenum, 0.07% tungsten, 4.75 g/t silver. At a mine production rate of 3,000 tonnes per day and an initial capital cost of $92 million, the project demonstrated pre-tax net cash flows of $163 million and an internal rate of return of 34% (see Company's press release dated January 10, 2012).
In 2011, Minera Alamos acquired the North Deposit area (previously known as Potreritos) located approximately 2 km north of the Los Verdes property limits. Historic estimates for the North Deposit include 1.4 million tonnes of indicated resources (0.47% Cu / 0.12% Mo) and 0.8 million tonnes of inferred resources (0.22% Cu / 0.033% Mo) (see Company's press release dated October 27, 2011).
The Company is currently considering strategic alternatives for Los Verdes based on current industry/market expectations and a resizing of the planned operations.