( Formerly -Guadalupe de Los Reyes)
Location
Sinaloa State, Mexico
Ownership
10.3% equity interest in Prime Mining Corp. Formerly - ePower Metals*
Land Position
15,575 ha
Status
Engineering planning
Metals
Gold-Silver
Mineral Resources

Indicated: 6,843,000 t grading 1.73 g/t Au and 28.71 g/t Ag
Inferred: 3,200,000 t grading 1.49 g/t Au and 34.87 g/t Ag

Indicated: 380,000 oz Au; 6,315,300 oz Ag
Inferred: 155,200 oz Au; 3,639,000 oz Ag

Mining & Processing Concept
Open pit mining with heap leach processing
* In addition, Minera owns 3,350,000 warrants of Prime Mining that, if exercised, Minera's ownership increases to 15.1% on a partially diluted basis.
Highlights
Four deposits with drilled resources
Engineering studies in progress for heap leach operation
Aggressive exploration to expand the current resource and planned throughput
Eight additional exploration target areas
Overview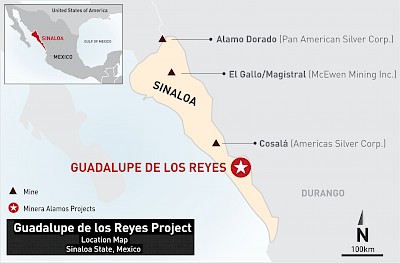 The 15,575 ha Guadalupe de Los Reyes project is located in Sinaloa State, 200 km by road north of the coastal city of Mazatlán and 30 km by road southeast of the town of Cosalá.
As detailed in the Company's October 24, 2017 press release, Minera Alamos has an option to acquire all the issued shares of Vista Gold's subsidiary Minera Gold Stake SA de CV, which owns the Guadalupe de Los Reyes project. The agreement calls for staged payments totalling US$6M. Production from any open pit (heap leach) mining operations at the Project will be subject to a minimum 1% net smelter return royalty ("NSR") payable to Vista Gold which could increase to 2% if gold prices exceed US$ 1600 per oz. This royalty is capped at a maximum cumulative amount of US$2 million.