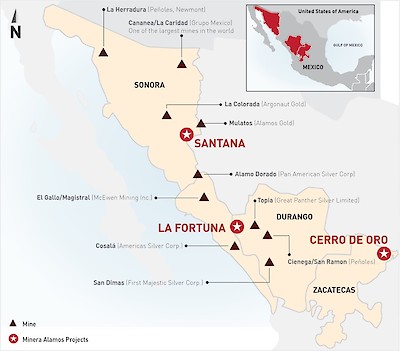 Minera Alamos is a gold development company poised to join the ranks of gold producers in 2021. The Company has a portfolio of high-quality Mexican assets, including the 100%-owned Santana open-pit, heap-leach development project in Sonora currently under construction, which is expected to have its first gold production in the first half of 2021. The La Fortuna open pit gold project in Durango (100%-owned) has an extremely robust and positive preliminary economic assessment (PEA) completed.
Minera Alamos's growth model is built around its operating team that together brought 3 mines into production over the last 12 years.
Following this growth model Minera Alamos has acquired 100 % of the Cerro de Oro property in Zacatecas; an open-pittable target of disseminated gold mineralization where previous metallurgical testwork has indicated it should be amenable to conventional open-pit/heap leach processing and extraction.
Growth Model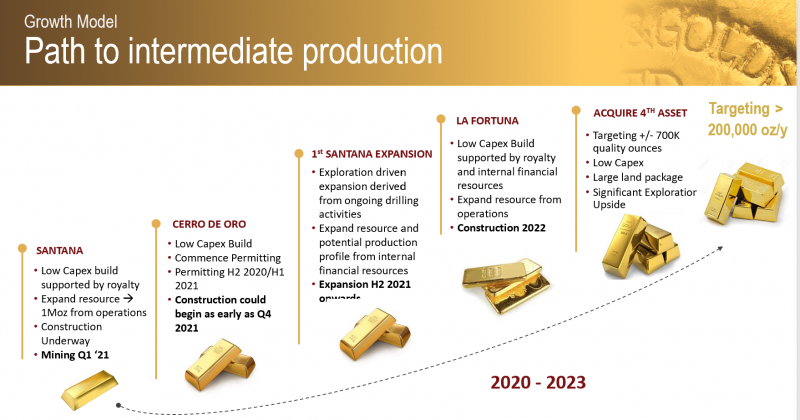 Path to 150,000 Gold Oz/Year Producer
A phased build out of the existing assets is showcased by our first mine's construction with plans for at least two subsequent operations to be developed sequentially commencing construction once Santana enters production.
Mining in Mexico
Mexico is the largest producer of silver in the world and a top global producer of gold, copper and zinc and other important metals and minerals. With its 500-year mining history, stable government and attractive mining investment environment, Mexico ranks globally as one of the most favoured mining and exploration jurisdictions.
Despite its extensive mining history, Mexico's mineral potential remains very strong with multiple, productive metallogenic belts and a considerable portion of the country still deemed underexplored.
Permitting in Mexico
Permitting is a very straightforward and transparent process in Mexico and represents a real strength and benefit of the mining industry in the country. Typically, the process takes less than 12 months and a core competency of Minera's team is understanding and successfully navigating within the regulatory regime of the mining sector in Mexico. This was highlighted with the rapid permitting of Santana despite it taking place during an election year.