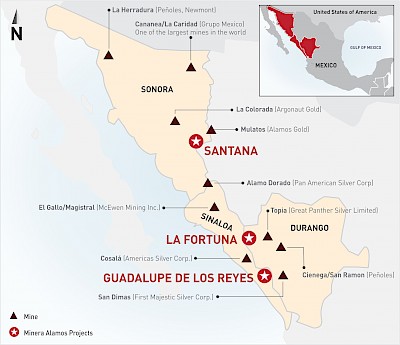 Minera Alamos is an advanced-stage exploration and development company with a growing portfolio of high-quality Mexican assets, including the La Fortuna open pit gold project in Durango with positive PEA completed (permits awaiting issuance) and the Santana open pit heap-leach development project in Sonora with test mining and processing completed (environmental permits received). The Company anticipates construction start up at Santana at the end of 2019, production at Santana is expected in the second half of 2020.
The Company's strategy is to develop low capex assets while expanding the mine resource and pursuing complementary strategic acquisitions.
Mining in Mexico
Mexico is the largest producer of silver in the world and a top global producer of gold, copper and zinc and other important metals and minerals. With its 500-year mining history, stable government and attractive mining investment environment, Mexico ranks globally as one of the most favoured mining and exploration jurisdictions.
Despite its extensive mining history, Mexico's mineral potential remains very strong with multiple, productive metallogenic belts and a considerable portion of the country still deemed underexplored.
Permitting in Mexico
Permitting is a very straightforward and transparent process in Mexico. Typically the process takes less than 12 months and a core competency of Minera's team is understanding and successfully navigating within the regulatory regime of the mining sector in Mexico. This was highlighted with the recent positive notification of the permits for Santana. The Company anticipates a similar result for the La Fortuna final permit.