Minera Alamos is a gold development company poised to join the ranks of gold producers in 2020. The Company has a portfolio of high-quality Mexican assets, including the 100%-owned Santana open-pit, heap-leach development project in Sonora currently under construction, which is expected to have its first gold production in Q1 2021. The La Fortuna open pit gold project in Durango (100%-owned) has an extremely robust and positive preliminary economic assessment (PEA) completed and is nearing the end of the permitting process. A construction decision on La Fortuna could be made in late 2020 or early 2021 and highlights the organic growth the existing projects can provide to the overall production profile. Minera Alamos is built around its operating team that together brought 3 mines in to production over the last 12 years.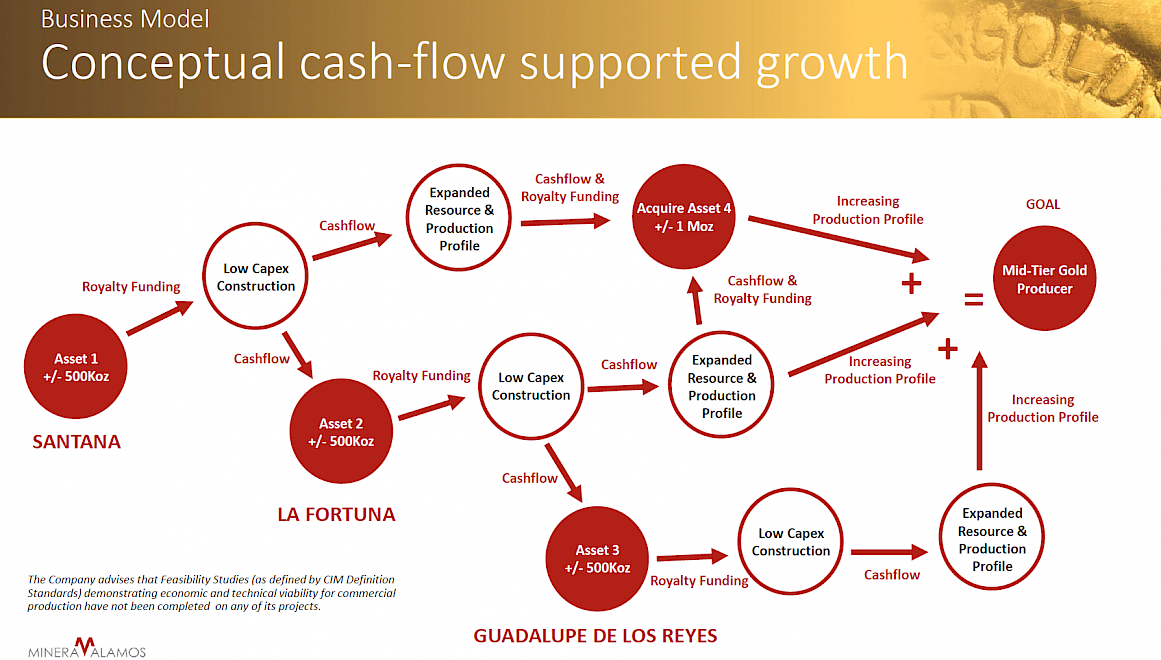 Proven Mine Building team
The Minera Alamos team has successfully built three mines in the last 12 years, including founding Castle Gold and developing the El Castillo mine for $8 million, which was later sold to Argonaut Gold for $130M.
A Strong Financial partner
Osisko Gold Royalties Ltd. ("Osisko") is a cornerstone strategic partner for the Company's acquisition and development opportunities. Osisko is a premier growth-oriented precious metals royalty company and holds a North American focused portfolio of over 130 royalties, streams and precious metal offtakes. Osisko owns approximately 13% of Minera Alamos.
Aggressive Growth Ambitions
The Company is focused on opportunistically acquiring and developing high-quality mining assets that are:
12-24 months away from production;
Capable of high operating margins; and
Modest in size/capex
Path to 150,000 Gold Oz/Year Producer
A phased build out of the existing assets should allow the first mine's construction in 2019 with two subsequent operations commencing in 2020 and 2021 respectively.