Location
Durango State, Mexico
Ownership
100%
Land Position
6,100 ha
Status
Federal Permits in hand
Metals
Gold-Silver-Copper
Mineral Resources

M&I: 3,469,711 t grading 2.78 g/t Au, 16.51 g/t Ag and 0.22% Cu

M&I: 309,800 oz Au; 1,842,200 oz Ag; 7,600 t Cu

Mining & Processing Concept
Open pit mining with gravity circuit & flotation plant processing
Highlights of the PEA
Robust economics with after-tax NPV (7.5%) of US$69.8M & 93% IRR
Five-year mine life on initial resource "starter pit"
Average annual production of 50K AuEq oz
Low initial capital costs and rapid payback
Significant upside potential of resource size and milling capacity
Opportunities for significant economic improvement by improving gold recoveries and reducing initial capital costs
Overview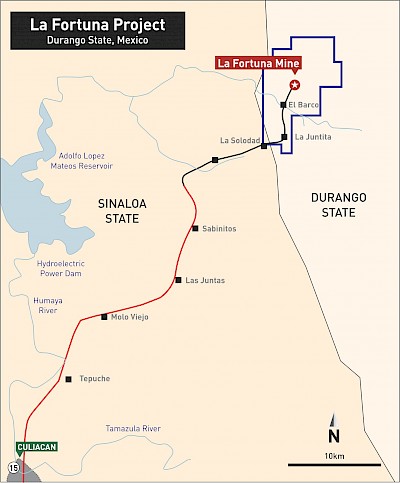 The 6,200 ha La Fortuna project is located in Durango State, Mexico. Road access is from the city of Culiacán located 85 km southwest in Sinaloa State. Paved road and grid power currently extend to within 30 km of the project with the remaining distance accessed by gravel road.
Minera Alamos acquired 100% of the 4 mining concessions that comprise the La Fortuna project in May 2016 from Argonaut Gold Inc. The concessions are subject to a 2.5% NSR on production to a maximum of US$4.5M payable to Argonaut Gold Inc. - this capped royalty was subsequently sold to Metalla Royalty and Streaming Ltd in 2021.
Minera Alamos has received a positive notification from the Mexican environmental authorities (Secretaria de Medio Ambiente y Recursos Naturales – "SEMARNAT") confirming the successful completion of the technical review phase of the Company's application (Estudio Tecnico Justificativo – "ETJ") for the change of land use to construct mining and processing facilities at the Fortuna project area.
The Company has completed the geotechnical studies and design of the "dry-stack" tailings containment facilities for the Project which were submitted to the Mexican Federal Environmental Agency (Secretaria de Medio Ambiente y Recursos Naturales or "SEMARNAT") as part of the mine permitting process.
Federal permits have been received.