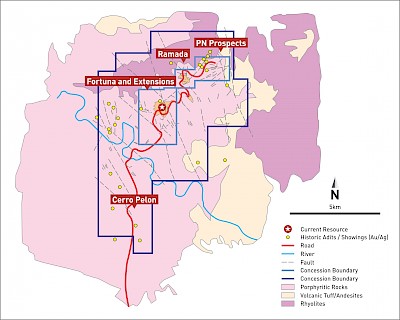 Multiple zones of Fortuna-style mineralization are identified on the project, some of which have alteration zones significantly greater in scale than present at La Fortuna. No systematic exploration has been conducted on the property since 2008-09. The identification of a new area ("La Pista") approximately 1300m southwest of the Company's La Fortuna Main Zone resource that contains significant near surface disseminated gold/silver mineralization with "heap leach style" intervals of up to 50m in width. Rock sampling surrounding the new target zone has returned assays up to 8 g/t Au and 30 g/t Ag over a mineralized area of approximately 500m x 300m. Plans were completed to include testing of the new area in addition to other known areas of historical mining as part of the Company's Fortuna exploration plans for 2019
Ramada Zone
The Ramada Zone lies on a parallel fault structure ~2 km northeast of the La Fortuna Mine and has been traced at surface for over 600 m in strike length. Sampling by Fernando Gold on a 7 m long exposure of quartz veining returned 18 g/t gold and 176 g/t silver over a width of 3.3 m. Further south the vein is exposed in a creek bed and returned 4.33 g/t gold and 105 g/t silver over 3.7 m. This site also has a small caved adit and may be the location of two Consejo de Recursos Minerales (CRM) core holes which reported intercepts of 5.49 g/t gold and 204.8 g/t silver over 2.2 m and 2.35 g/t gold and 17.6 g/t silver over 3.3 m.
PN Zone
The PN Zone structure is located ~1.5 km northeast of the Ramada Zone and can be traced on surface for ~1.5 km. Numerous historic mine workings are found along the structure and sampling from this area returned grades ranging from 1-10 g/t gold and 50-400 g/t silver.
Cerro Pelon Zone
The Cerro Pelon Zone (previously Los Cajones) is located to the south of the La Fortuna Mine. Historical sampling by the CRM outlined an area of anomalous gold ~1500 m long and 200-500 m wide with assay values as high as 10 g/t.
Other Zones
Numerous additional zones and prospects occur in the project area with reported workings and/or anomalous surface sampling and similar mineralization, alteration and structural associations to the La Fortuna deposit.