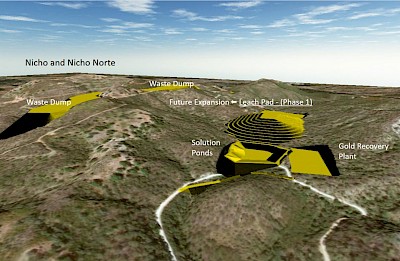 Bulk test mining was completed in mid-2018 with ~50,000 t of mineralized material mined, crushed and placed on the test leach pads. Various crush sizes were tested (<1/2"-5/8" up to 3" ) resulting in consistent gold recoveries across test sizes (~0.65 g/t Au extracted). Approximately 1,000 oz of gold was recovered as a result of these bulk tests with additional residual gold still being recovered from the leach pad.
The results fully support the development of the project with a goal towards commercial-scale operation. MIA/ETJ approval has been received, construction has started, and mining is expected Q1 2020.
Cautionary Note
The Company advises that while it has made a production decision it does not have a feasibility study of mineral reserves, demonstrating economic and technical viability, and, as a result, there may be an increased uncertainty of achieving any particular level of recovery of minerals or the cost of such recovery, including increased risks associated with developing a commercially mineable deposit.